My wife Amy and I learned to play Farkle while in College (BYU) in 1994.  We sat and played during cold winter months for hours with a group of friends.  It was a blast and we consumed lots of Tostitos® Chips
and salsa
.
Another friend of ours was getting married and being poor college students we didn't have much money for a wedding gift, so we typed up the rules as we had learned them, added some humor to make it a little more fun and purchased some dice to go along with them.  This became our standard wedding gift during this time of our life.  The rules we wrote up are the same rules listed on this site.  (I have edited some typos over the years)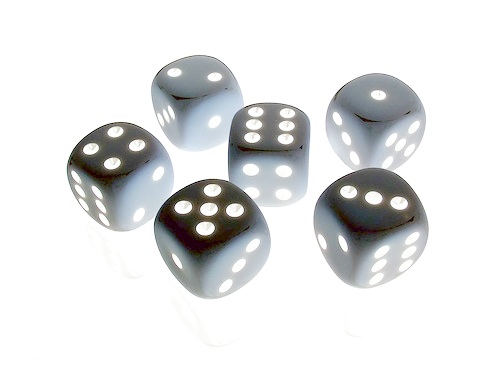 A few years later in 1999 we found ourselves known as the "Farkle-Experts" and we would get calls at all hours from friends wanting to know the rules again (They lost their printouts).  The internet was getting more popular at this point so I decided to post the rules on the internet for everybody to see so we didn't have to fax them a copy.  (BTW- Faxing was an ancient form of communication)
Google had been founded a year or so before my site was up and I didn't know how at that time but they found me.  I was very surprised when I noticed a couple thousand people had seen my rules in the first year.  I didn't have that many friends who played Farkle.
As time went on, more and more people found my site.  Over the years, I've updated the look and feel a couple times to make the site a little more modern but I've never advertised or anything like that.  Search engines are pretty funny that way.  🙂  You are one of 50,000+ page views that this site gets in an average month.  Go Farkle!
Answer to common question: No I am not affiliated with Tostitos® Chips
and salsa
or any game company at all.  I'm just a guy who plays a game with 6 Wooden Dice
.